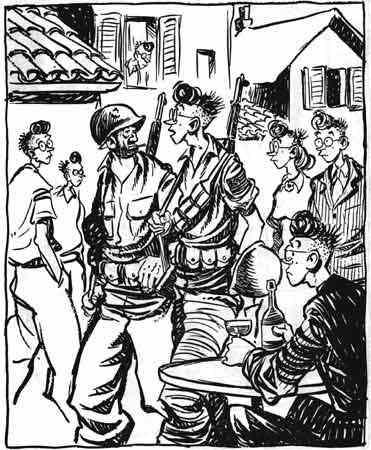 "This is th' town my pappy told me about."
Printed with permision from the Stars and Stripes,
Copywrite 2003 Stars and Stripes

A Family in War and Peace ( Newsday )
ED LOWE; 03-28-1999
Copyright 2002 Newsday, Inc. Reprinted with Permission www.Newsday.com
ANN CASERTANO TOLD ME about her husband, Angelo, in February. I didn't know whether I could use the material. It was too much, and too little,all at once. I kept her note on my desk.
In the interim, I went to the movies and saw both "Saving Private Ryan" and "Life Is Beautiful."
So . . . Angelo Casertano is 75, almost 76. He was a 19-year-old from south Brooklyn when the U.S. Army drafted him into its service. After three months of training at Fort Eustis, Va., he and two others were assigned to replace three soldiers in the 45th Infantry Division. The three had failed their physicals. Angelo shipped out to Africa and made a beach landing at Sicily. As a new corporal, he then was trained to man the guns of a half-track armored vehicle, and, with his division,made his way through heavy resistance to Caserta, Italy, where they learned they would get a few days rest, in an Italian cavalry barn,before moving out, again.
Angelo knew that his father, Antonio, had come from a tiny town just north of Caserta: San Prisco. He knew that two of his father's brothers still lived there, and that one of them had nine children, all his first cousins. He filled his pockets with government-issued goodies, asked directions to San Prisco, walked miles on a dirt path and then hitched a ride with the friendly driver of a horse-drawn cart, until the driver asked two men walking along the roadside if they knew any Casertanos. They answered that not only did they know some, they were Casertanos. Recognizing his father's features in his uncles' faces, Angelo jumped down from the cart and asked the men if they had a brother, Antonio, in America. They did.
"I am his son," Angelo said, practically inciting a small riot.
The driver took them all to San Prisco, whose population never had seen an American soldier and thus followed Angelo exuberantly to his uncle's house. The English had driven the Germans out of that part of Italy, but German guns periodically shelled the area. The oldest of the nine cousins, Domenico, 18, came out of his attic hiding place to meet Angelo. Domenico had served in the Italian army, which by now had surrendered. Many of its troops had dispersed and were scattered out of existence. Domenico had managed to find his way back home. The Casertanos knew that if the Germans had found Domenico in hiding, they would have shot the entire family.
Angelo made one more surprise visit to San Prisco. He brought more G.I. goodies for everybody in the family, plus a harmonica, which he gave to the youngest of the nine first cousins, his namesake, Angelo Casertano, then 3 years old. His aunts - desperately short of food and supplies - told him if he came back one more time, they would make whatever was his favorite dinner, to remind him of home. He asked for pasta e fagioli or pasta e ceci - pasta with beans or pasta with chickpeas. They promised. When he did not return, two of the aunts made the long walk from San Prisco to Caserta, where they learned that Angelo's outfit had shipped out.
Angelo's division went on to fight at Monte Cassino. They landed at Anzio, fought through southern France, Alsace-Lorraine, the Alps,Germany, Berchtesgaden, Obersalzberg and Austria. Angelo was shot in the leg, hospitalized and voluntarily returned to combat. He now wears two hearing aids, most likely because his hearing was insufficiently protected from the terrifying and unrelenting sounds whose memicked echoes so dominated the movie "Saving Private Ryan" (and won it additional awards). Angelo also received the Purple Heart, the Bronze Star, the Croix de Guerre, the President's Unit Citation, the Distinguished Unit Badge, six battle stars and a Good Conduct Medal.
He spent his last five months in the Army with the 441st Battalion,attached to the 3rd Infantry Division, pulling guard duty at Eagle's Nest, Hitler's personal retreat atop Kehlstein Mountain. He lived in a hotel vacated by S.S. troopers and guarded Hitler's vacation retreat against souvenir hunters. Luckily, the extra time served meant that he finally could go home, and not to the war in the Pacific.
Angelo returned home and later met and married Ann Ferrante around the time his parents were buying a house from her aunt. Ann had grown up in Canarsie. She and Angelo, who moved to Bay Shore about 45 years ago,have three children. The oldest, Martha, was 16, in 1965, when she accompanied her grandfather, Antonio, back to the Italy he had left at 16. Seeing his brothers so old and enfeebled was harder than he had anticipated."It turned out to be a very trying time for my father-in-law," Ann Casertano said.
The uncles didn't live long after that, so Angelo never saw them again. Angelo drove a Pepperidge Farm route in Nassau County for more than 20 years and then, in 1983, decided to take a Perillo Tour to Italy. He knew from occasional correspondence that two of the nine cousins now were nuns, living in Rome.
"This was 40 years after he had first seen them," said Ann, "that we went on this tour. We decided to call them in San Prisco and then ask the Perillo people about it, and they said they would make a stop at a certain spot somewhere near Naples, and if the relatives could meet us there on the Autostrada, we could catch up with the tour again in Rome. Well, they came with two cars loaded with cousins. They were right on the side of the road, and the whole bus was so excited to see these cars and the cousins with all the hugging and kissing.
"They took us to their home. The uncles were gone, of course, but Angelo met Dominico, and the rest of the family couldn't do enough for us. We stayed two days, and we had to eat dinner twice each day indifferent houses and it was a beautiful, beautiful time. In the space of two days, we felt like we knew them all our lives. We write to them all the time, and some have visited Long Island. And Angelo, the 3-year-old boy that Angelo gave the harmonica to, is a renowned opera singer at San Carlo, in Naples. He sings all around Italy, Germany, France, Israel and Japan, and hopes one day his troupe will come to America to sing."