For a short period of time, Bill worked for the Civil Conservation Corp, the CCC's, working on farms and digging ditches. The work was varied, doing whatever was needed, and this program was set up by the Federal Government.
He began work at Welin-Davit, Perth Amboy, NJ in 1942 as an assembler and riveter making davits for lifeboats. He joined the army in spring of 1943, went overseas.
WORLD WAR II MEMOIRS AS TOLD TO WIFE, THELMA FAYE PRINCE, JUNE 1994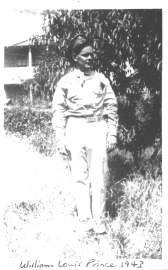 "I was inducted into the army on March 25, 1943 at Newark, NJ. I had my basic training at Camp Croft, Spartenburg, S.C. I had advanced training at Camp Swift in Austin, Tx.
Date of departure to Oran, Algeria, North Africa, was September 13 by a liberty ship named "John Brown." We arrived there October 6, 1943, stayed there briefly then went to Bizerte, Tunisia on the "Forty and Eight" train. From Bizerte we went by transport ship to Naples where we bivouacked at a racetrack which was the replacement depot of manpower.
I was rifleman #745 in Company L, 179th Infantry, 45th Division of the Fifth Army. My outfit landed on Anzio Beachead between January 23rd and February 1, 1944. I was not in the first landing on January 21-22nd. We went from Naples to Anzio by ship and marched off the ship up through the town and joined the lines already formed, digging right into foxholes, because shelling and bombing were going on constantly.