DOROTHY AND BOB SHERIDAN met at a party in her native Freeport. They were 18, though she was the elder by some months. "Dot" graduated from Freeport High School in 1938; Bob was an alumnus of Hempstead High, '39. Dot was a legal secretary; Bob was hoping to get a union card as a printer's apprentice. They "kept company," or, dated, exclusively, until Aug. 24, 1941, when they eloped to Elkton, MD.
Bob (Robert N.) became a linotype operator at the then-new daily newspaper, Newsday. Later, he would switch employers and hold a longtime job as a linotype operator with the Doubleday publishing company, on Franklin Avenue in Garden City, but he would not start that job until after World War II.
Bob entered the U.S. Army Feb. 17, 1943, and became an infantryman. The Sheridans gave up their first apartment, and Dot returned to her parents' house in Freeport to wait out the war. "I did go down to Georgia, once, to visit him," she recalled recently. "He had come down with meningitis. He was in a coma for days. Finally, he came out of it and got well. So, as soon as he recuperated, they sent him overseas. He ended up in Anzio, Italy, where the Americans had their backs to the sea. It was very scary. He was in the 45th Division, 157th Infantry, from February of '43 to October of '45.
"They broke through Anzio and worked their way north. On the drive toward Rome, he got shrapnel in his leg. They awarded him a Purple Heart. After they reached Rome, the Army sent him back to Naples for amphibious training, in preparation for the invasion of southern France, in which he took part on Aug. 15, 1944. That September, he was machine-gunned in his right foot and was returned from Italy to the United States on a hospital ship, the General Anderson. It landed in South Carolina. From there, he was shipped to Fletcher Army Hospital in Cambridge, Ohio, which was best known at that time for treating leg and arm injuries.
USS General A.E. Anderson, APA-111
"I went out there and visited him," Dot said. "I was working at the time at Mitchel Field, for the Inspector General's office of the Air Force. I was a secretary to Col. Loring Pickering. He was the head of the Field Air Inspector's Office at Mitchel Field. Meanwhile, Bob spent six months in Fletcher Hospital. While he was there, he got another Purple Heart for that machine gun injury and an Oak Leaf Cluster medal. After Bob recuperated again, he was sent back to New York to work in the GPO, the General Post Office, in Manhattan. He still was in the Army. The Army used to take returnees who couldn't do much and put them to work in the Post Office.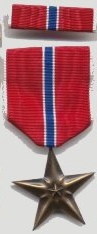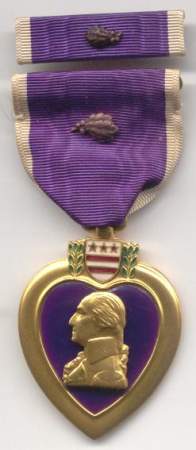 "He was finally discharged in 1945. We didn't even know he was up for another medal, and I can't tell you how it actually happened. I don't know. The Purple Hearts he had gotten while he was enlisted. The Bronze Star medal came much later; very much later-say, 1957. The Army informed him by letter that he had been awarded the Bronze Star. I still have the letter he received. It read: 'For exemplary conduct in ground combat against the armed enemy on or about 1 March 1944, in The Mediterranean Theater of Operations, while assigned as Private, 157th Infantry Regiment.'