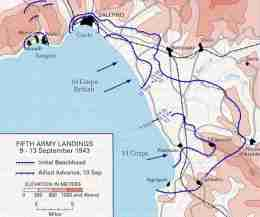 Click on map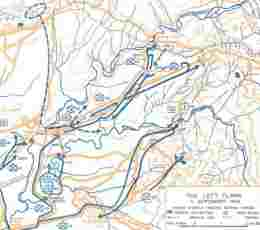 Click on Map
The 8th of September 1943 the 179th Regiment and 1st and 3rd Battalions of the 157th Regiment boarded on ships to make it to Salerno+ Italy. When we made the Landing on Salerno we were in the 5th Army with General Mark Clark in change. The reason the 2nd Battalion and the 180th Regiment were left behind was there weren't enough ships to take the entire Division, as the ships were being pulled to England to prepare for the landing of Normandy in June of 1944. We got to the Salerno area the 10th of September and were supposed to be floating reserves but there wasn't any floating done . . .We went right on in. The 36th Division was supposed to make the initial landing but the Germans almost wiped the riflemen out, and the Army was giving the artillerymen rifles to try to hold the line.
We went ashore by Paestum and went inland three quarters to one mile and came up on 36th Regiment where 54 men were all killed with German bayonets. We couldn't see where any rifles were fired. The Germans took all of their rifles and ammo. We moved ahead about 200 yards and dug in. There was a rifle platoon and 14 machine gunners when dug in when here came (I figured a German Regiment) with bayonets on their rifles, figured to stab us like they had the 36th Division.
The lieutenant said to hold our firepower 'till they get closer. They got to about 125 feet from us when we opened fire and the Germans fell like ten pins. Each wave kept coming 'till about the 7th wave before they finally hit the ground and started firing back. The men that were down in front of them were no protection for the Germans as they were on a gradual sloop on a small hill and we could pick them off. The men that jumped up to run back we shot in the back.
Colonel Ankcorn had us move to another place. The navy gave orders for the troops ships to come back and pick up survivors that came to the beach. Colonel Ankcorn gave the order to put ammunition and rations behind the 157th Regiment - we were not pulling back! The ships went back to Sicily to get the rest of the 45th Division. We moved 3 times the next day and dug 3 different foxholes to make the Germans think there were more of us. We walked across a bridge on a dry creek that the Germans could see. Colonel Ankcorn had the company walk across the bridge then go back below the bridge, then walk over the bridge three times to make them think there were more of us.
The 4th day we walked by where our 105 mm guns were, a battery of the 158th Field Artillery, was firing. They had stopped firing for a few minutes. They had fired so many shells that the casing and cardboard were in a 'U' shape behind each gun. They said they would have to move the guns ahead because the men couldn't throw the casing any higher. While we were still there, here came a man driving DUKW with 105 mm ammo. A DUKW is a cargo boat that is set on a 6x6 truck chassis that goes out to the ships in the water to bring supplies into the beach area. The driver ask "Where is the ammo Dump?" they said, "It's right here". The driver said he was supposed to go to the dump and said, "Where is the Ammo Dump?". The Captain said " You better unload right over there, if you leave with that load you will only get to the bend in the road". The driver said "Why?" And the Captain said, "You will have a 105 shell in your hip pocket". It didn't take long to get the DUKW unloaded.

We moved up to where we first came on to the beach but we didn't stay, as all the 36th Division men still laid where they were killed and the Germans didn't move any of their dead. The smell was so terrible. Later after we broke through the beachhead the gravedigger had to bury the 36th Division's men and the Germans also. The 36th Division had to pull back to Sicily or to North Africa to reorganize. The Division lost most of the riflemen as the men thought that this was like maneuvers back in the States. For their foxholes, they just dug out about four inches deep. (Thunder! I dug a deeper hole when I went to the bathroom!)

After we got to moving from the beach head, an artillery shell hit a tree and something hit me under my right eye. I told the first-aid men that were attached to the 1st platoon to put a patch on my eye and I didn't go to the first-aid station, so that wound didn't get put on my records either. Here I was wounded two times. I think we were on the beachhead three days when the corporal and sergeant in charge of the machine gun section got wounded. The corporal got wounded on his wrist and I don't know what happened to the sergeant.
On the third day, here came in 12 P38 fighter planes - the planes that have the twin fuselage and two motors. The engineers laid steel plates down on the sand so the planes could land and take off. There was a crew to put ammunition and bombs on the planes and to add fuel. The planes never climbed over 500 feet and would strafe and drop their bombs, then right back to the landing strip. They said they never had to put fuel in the plane - just the ammo. They would fly back to Sicily at night. The men that put in the ammo on the planes could see the targets the P38s were firing on.

All the rifle companies got two more machine guns, and being I was a first gunner, I was made Sergeant-in-Charge of the first section and Otis was in charge of the second section. So each platoon that would be on the line would have two machine guns supporting the platoon. For some reason, I was with the First Platoon that was to be the lead platoon, as they would rotate the 3 platoons and that would be the platoon I would be attached to. About all the men in the section know how to handle the machine guns, so we took eight men for ammo carriers, and four men for the guns in each section.
One man that was in my squad, Casey, didn't want to work with the machine gun and wanted to stay an ammo carrier. There was one replacement that came in to my section from Kentucky and he couldn't read or write. Every time he got a letter he would come to me to read it for him. So when we had some time off, I wrote letters home. I asked Clay if he wanted me to write a letter to his wife. He said "Boy I would really like that!". He knew his address then said "Dear Faye, How are you? I am fine. I love you. Clay". I said, "Wait a minute have you told her you were in Italy?" "No" " Have you said what outfit you are in"? He said "No". " How about being in the front line in a machine gun section carrying two boxes of ammo?" I wrote that, then I told her I was his Sergeant and he brought his letters for me to read. In her next letter she thanked me for writing for him. I don't know what happened to him, as I had to go to the hospital for two months with an ear infection.
Another man in my section showed pictures. Every time his mother sent pictures. One time he said they were of his twin sisters 7 years old and then the next time he said they were his daughters. One time we were in a foxhole for two nights, he told me when he was 6 years old his Dad died. Right after his dad passed away, his Mom had him sleep with her. When he was sixteen years old his mom got pregnant with twin girls. He was 24 years old when I knew him. I don't know what happened to him either.
When we would dig our foxholes if I was a even man I would dig with one of the ammo carriers but if I was a odd man I would dig one by myself. There were 15 men in the section two squads of seven men and the sergeant in charge. (Each squad had the First Gunner and Second Gunner and the 5 ammo carriers.) So I would count up all the men and myself, if the count was even - 10, 12, or 14, there would be two men to a foxhole. But if the number was odd 11, 13, or 15, there would be two men to a foxhole, and one man to a foxhole by himself. If there was a odd number, I dug a foxhole myself.
At night when we were on the front lines, the Supply Sergeant would bring up our rations, water, ammo, and many nights-cigarettes. I didn't smoke but I sure gave gum thunder, as I would have a stick in my mouth 24 hours a day. If there were any cigarettes left over I would take them, and most the time there would be one or two packs. I have seen times when there were over five packs.
I would carry the extra packs in my pack and when any of my men would run out of cigarettes, they would come to me and ask "Tarzan, you got any cigarettes?" Like one time on Anzio, the Germans were trying to push us back and we had our artillery firing shells in front of us, along with all our weapons. The Germans made three counter attacks that day. Talk about being nerve wrecking! I only had ten men in my section as four had gotten wounded. When the Germans finally stopped pushing, those 10 men came to me asking if I had any cigarettes as they were out. I had one pack so they all took a cigarette and smoked it. The ashes fell behind their lips. Later they wanted the last of the pack and I said "That all I have." And they said, " We know that". That night we got more cigarettes.
The 11th of September 1943 the 2nd Battalion of the 157th and 179th Regiments got to Italy. The 15th of September the 15th Division and the 34th Division came to Italy and the Germans were trying to push us off the beachhead. One night or evening the German Luftwaffe and ME-109 fighter planes came over to attack the beachhead. The British Spitfires and the P-38 planes intercepted them and after loosing several planes the Germans turned for home.
tobacco warehouse factory, Persano, Italy
I can not remember the towns and cities we went through but I do know there was a tobacco warehouse factory that the Germans were fighting for. At night, our fighter planes would go back to their base and the German planes would come and bomb the harbor. When we got to moving we crossed the Sele River. On September 19th the Regiment got to Eboli then on to Oliveto+. The 24th of September Colonel Ankcorn's Jeep hit a land mine and his leg was badly mangled. He was sent back. He was a good soldier and a good man. I really liked him.

When we stopped moving for the night, the ground was so hard that it was hard to make a dent in the soil. I had a pick mattock and could pick the dirt then take my helmet to scoop out the dirt. I would let my men in the section use the pick also. At one place we stopped, I was the odd man so I dug my foxhole alone. After we got our hole dug we were standing around, having a BS session, probably about girls, when the Germans laid in a barrage on us. We dived into our foxholes. A shell either an armor piecing one or a dud landed 1-foot beside my hole. A dud is a shell that does not explode. The prisoners in Germany had to make the shells and sometimes they would fix the shell so it would not go off. Sometimes, there were notes in the shells. When the shell landed it broke off a layer of dirt 1-foot wide and 6 feet long on top of me along with the dirt I had piled from digging my foxhole. I could hardly breathe with all that dirt on top of me. When the barrage lifted the men got out of their holes and said "Looks like Tarzan got it". I was able to say, "You Sobs! Get this dirt off me so I can get out of here!". In no time they had the dirt off me. A few years ago at one of our 157th Infantry reunions we were talking about that and two men said "If we had known how mean you were with us, we would have thrown more dirt on you." (I wasn't mean!!!)

As we moved in up the mountain ridges, we would be walking up the road and the Germans would have delaying action. They would have from 2 to 4 machine guns set up on top of a little hill and they would start firing on us. When we would get set up to fire on them they would crawl back and get on a truck and go tearing up the road. Twice, there were gullies to the right side of the road, and one squad of riflemen and the machine gun section went in the gully and got ahead of the Germans. When they came crawling to get their truck they gave up without a fight - even the truck drivers.
Everyday the Regiment would have so far to move forward and if we didn't contact the enemy we would stop at that line for the night. After we dug in - I had a first gunner, Rico, that anything I would say to him, he was all for it. One evening we walked up to a barn and looked it over. It had a loft and we went up and were looking out the door where they put the hay in the loft. I spotted some 81 mm mortar shells. I said let's throw the shells out of this door to see if we can explode any. We knocked the pins out of the shells and carried them up to the loft. It took three trips to get all of them - there were 36 shells. We threw the shells and all but five went off so we got them and threw them. When we got back up to the crew, they asked us, "Where were you when the Germans threw in the barrage?". I said, "We didn't hear anything." I looked at Rico and he never said anything. If he had opened his mouth I would have decked him. The next evening, he went into some bushes - I think to go to the bathroom, and when he came out, he tripped a personal land mine. As he turned to see what it was, the mine jumped up 1 foot and he got shrapnel in his right calf on his leg. I never saw him after that.

There were two Negroes that were in the DUKW Company or Battalion that brings supplies from the ships to the beach. One DUKW was filled with cans of gas I think, and they had ten to fifteen gallons of wine. They were going to drive the DUKW back to the States. I think they were at Bezerte and went though the Strait of Gibraltar. They were two days out in the ocean when a plane spotted them. A ship picked them up and brought them back to Africa. They were charged with being AWOL and stealing GI equipment. I can't remember what the third charge was for. They got sent to a Federal Prison. It was a good thing there was no storm or the DUKW would have taken on water and sunk.

One day we were in reserve and when we came to a fork in the road a small city was off to the left. Our Major had "K CO" go to check out the city. How come my section was clear to the back of the column, I don't know, usually I was up close to the front of the line. There was a road that runs east and west and the road we were on curved into the straight road. There were bushes along the side of the road so we couldn't see anything coming, but my men said that they heard hobnailed boots. Then I heard them! They came out in the open on a dead run right for us. We tried to set up our machine guns and they were on top of us before a shot was fired. There were 46 German soldiers. They put their rifles on the ditch bank and took off their belts and helmets and put on caps. They surrendered; there was no fight in them. Here came a jeep with an officer a major - I think - and they took the prisoners back.
The weapons platoon stayed at the Town Square while the rest of the company scouted the rest of the city. I got to looking around as usual, and I looked up this doorway a woman motioned for me to come up the stairs. I asked if there were any Germans there, and she said no. She wanted to thank me for getting the Germans out of the city and she led me to her bed. When we left there to get back to the highway the 3rd Battalion was supposed to be just past the fork in the road but they were not there. So my two first gunmen and I walked back about 100 yards. We yelled "Are you bastards up ahead?" and waited for an answer. "Who in the hell are you?". "We are the Katz n Jammer Kids." "We are Ike.". We told them we had to go back to get the company. Then we pulled through "I company". The 157th Regiment knew where the Germans were set up about three miles ahead of us.

This was one of the few times four tanks were assigned to go with us. We were walking in a open grass field and were spread out, so when the artillery shells were coming in we would stop and run back to get out of the range of the artillery shell. The tanks would turn and come back with us. We told them to keep those Iron Coffins away from us as we didn't have any protection, and they said we could crawl under the tanks. When we made contact with the Germans, they started firing on us and we went to firing on the Germans, the tanks turned and went behind a little hill. I counted 7 machine gun nests. I think there were 3 guns in each nest and one shot from their cannon would have knocked out the nests. I sent my carrier back after more ammo. At the time I only had 3 ammo carriers for each gun. When I saw one gun only had 100 rounds and the other had 150. I said I would go to the tanks to see if I could get more ammo.
I got to the first tank and they had the hatches buttoned down, I pounded on the tank, the hatch opened and a periscope poked over the top and wanted to know what I wanted. I said, "I want machine gun ammo." "We don't have any." I said "What's that gun up on the turret and by the assistant driver." He said "Oh that kind". The hatch on the 2nd tank open and the lieutenant looked out and asked the same question, than asked how much I wanted. I told him "Could I have 8 boxes?" Each tank threw out 2 boxes from their hatch.
I ask the Lieutenant "How come you didn't stay and fire on the nests?" He said "There were no tanks and with bullets hitting the tank they couldn't stick their heads out of the tanks." I told him, You better have a guard out in case the Germans brake thorough our line. They would drop a Molotov cocktail down your hatch." I carried 2 boxes back to the guns and by then they were out of ammo. I got the two - 2nd Gunners to come with me to get the boxes. By the time the Germans pulled out we only had part of 2 boxes left.
One of my first gunners name was Cosso and a man started trotting back and Cosso started shooting at him, he got to running faster each time Cosso started shooting. Cosso fired 'till the man was out of sight. He turned to me saying "What's the matter with me, I didn't even hit him?" I told him, "Every time you hit him he got to running faster!"
Distinctive insignia of the
191st Tank Battalion

About 14 years ago a man came to my place, he had just lost his wife and wanted to visit. We got to talking about the war and he said he was in Italy. I said I was in Italy with the 45th Division He said he was with 191st Tank Battalion. He told the story about some man knocking on his tanks wanting machine gun ammo. I told him that man was me! After that he came to talk with me 'till he passed away about 8 years ago.

We were up on this mountain range and we could look to our left and see the ocean in the distance. We saw 32 German Fighter Planes in formation flying south. We thought they were our fighter planes going home for the night, as it was about one hour before sun down. We watched the planes go south then turn left then come up the highway we were on. We dived in our foxholes. The planes were low enough that one plane fired right over my foxhole knocking the loose dirt on top of us. It dropped its bomb right in front of our hole. The planes turned around and finished firing their guns when we heard a louder noise and looked up and here came 12 P38's - they had twin fuselage fighter planes - diving on the Germans planes. I saw one plane fire on one German plane; level off; fire on the second plane; then on the third; than made a loop up in the air; and went to firing again. But by that time they were on the other side of the hill, then we saw them flying back to their base. On this side of a hill about 1½ miles ahead of us there were 16 planes that hit the ground, we could see smoke coming up on the other side of the hill. The 45th Regiment put out a newsletter on 2 sheets of paper. When we got the letter it said 32 German ME 109 planes bombed and strafed our position and that a squadron of 12 P38s intercepted them. There were 25 or 26 planes destroyed and 5 or 6 damaged so all the German planes were hit.

When we first went into the mountains the company went up this pretty steep road and on top it was flat. About ¾ mile across, there was a company of Germans and a tank, so we walked around the edge of the mountain. The sides were so steep that the loose dirt we kicked, as we walked, would slide down 2 to 300 feet before it stopped. When we dug our foxholes we threw the dirt down the steep bank - we even dug the machine guns down so the barrel was just above the ground. When we would fire at any German movement, their tank would fire the 88 gun at us. The shells would either land right out in front of us or go over head and go way down into the valley below us. The tank must have run out of ammo because it quit firing on us. About midnight the tank started down the hill so the next morning we were standing out over our foxholes and here came 12 P 51s and made a big circle, heading right for us, we dived in our holes. That's one time I wished my foxhole had handles as the plane bomb strafed us, one bomb landed 8 feet to the right of our hole and the concussion lifted us out of the hole and threw us 10 feet from the hole. We had to scramble to get back in our holes again. Two men weren't as lucky, as one bomb lifted them out of the hole and another bomb blew them over the side of the hill. One man went head over heels down the side about 200 feet before he spread eagle to stop himself. Then he had to climb up on all fours to get up to the top again. Our Major called the squadron, and they said we were not supposed to be there for two weeks.
Another time we contacted the Germans and our objective was ¾ mile farther. We were really in a battle, when the men in front of us pulled back so we went to moving, when an artillery shell landed about 20 feet to my right. Something hit me under my left eye.


It looked like someone took a razor blade and cut all the skin off my right kneecap. The first aid man patched me up and we went on to our objective. We just about had our foxholes dug when we got orders to move back. We were walking in two columns; I was to the back. Soon the Germans went to lobbing mortar shells 200 yards to our right, next it was 75 yards. I knew the next it would be right on us so I yelled up the lines to walk at a left oblique. The next barrage came, it was right beside us but still 75 yards away. The Germans fired four more barrages their shells landed 75 yards from us. After the barrages stopped I gave the command to "walk straight". When we got back to our line they told us that "I CO" on our right and "G CO" on our left couldn't break through and we were up where the Germans could get behind us.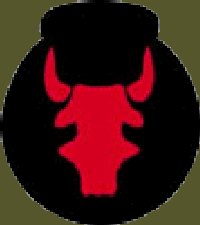 34th "Red Bull" Division Patch

The 34th Division relieved us and we got 6 days rest. The next day after I was wounded, one of my 2nd gunners had a swollen ankle and could hardly walk. He had to carry the machine gun, so I took him to the first aid station. I had a patch on my eye when the first aid man said "Tarzan, what's the matter with you." I told him "I have a man with a bad ankle." He said "No, you have a patch under your eye." So I told him I had been wounded yesterday and he chewed me out for not coming in when I got wounded. Did the Captain ever chew me out for not coming in when I got hit?!? He said I could get lead poisoning and could be pushing up daisies. They put another patch on my eye then asked if that was all. I was afraid to show him my knee but went ahead and pulled up my pant leg, I got another chewing out, I thought he chewed all my butt off. That time my wounds got on my record for the first time even through it was the third time I was wounded. When the doctors saw my 2nd gunner's ankle, they sent him back to the hospital and I never saw him again.