Pfc Joe Vien ASN: 37625476
Born 4 April 1941 in St Louis, MO
Inducted in to service 28 September 1943, entered Service at Jefferson Barracks 19 October 1943.
12 April 1944 he sets sail for Africa arriving 18 May 1944, from there he goes to A replacement depot near Naples Italy and is assigned to K Company, 179th Infantry Regiment before they leave for the invasion of Southern France.
On 15th August 1944 Joe participates in his first beach landing on the Southern shores of France, as part of operation Dragoon.
On the afternoon of October 20th, K Company was involved in exploiting gains made by G Company earlier in the day. Germans counter attacked closing the Gap in their lines but 3rd Battalion, 179th had gained possesion of the ridges just west of Brouvelieures, France.
The Winter of 1944 - 1945 was one of the worst on record in Europe.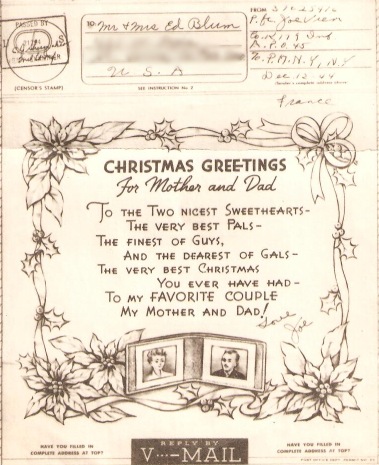 V-Mail Christmas Card mailed 12 December 1944
The 12th of December found K Company manning road blocks West of Niederbronn, France covering the 157th Infantry Regiments Flank.