There were German soldiers as far as we could see in front of us and to our right and left and behind us, there were thousands. When the German troops got closer we could see that they were all glassy eyed like they may have been drugged. They kept coming until they were hit, either wounded and knocked down or killed, never making any attempt or try to avoid the mortar or artillery fire. I honestly believe that if it wasn't for those five German soldiers that crept up on us from the rear (I think one was Polish) and got to us first, we would never have made it out alive. It has been known that Germans do not always take prisoners, especially when they are making a big charge forward.

When our troops charge the enemy they always run and hit the ground then get up run again and hit the ground or run zig zag across an open field to try and avoid the enemy fire as much as possible. There must have been a full regiment of troops in front of us and there we were in the middle with the fireworks from artillery, mortar, machine guns and rifle fire, from behind and front, like we were in the middle of Hell itself. I don't know how we did it, but we managed to get out of there alive for which I am thankful to Almighty God, for there was no other way. The saying goes that there are no atheist in the foxholes, which is true, because I've seen soldiers who never prayed before would make the sign of the cross, or pray the best they knew how, when it was a matter of life or death. I learned later that the Germans had broken through the British lines to our left and swept around behind us. It never entered my mind that I would be taken as a prisoner of war, possibly wounded yes, but a prisoner, never.

While we were marching back to the enemy camp one of the German soldiers took my wristwatch, which my wife (before we were married) gave me when I went into the service. I carried a small New Testament Bible with me, which the Germans never confiscated. It was with me from the time I was inducted till I returned home. We were being marched back along a dirt road that was strewn with dead bodies on both sides of the road, and many more bodies throughout the battlefields. They were mostly Germans, but there were also many Americans. It was not a pretty sight, (it was a very gruesome sight), and one that will never be forgotten, many of the bodies were shattered to bits, several were blown apart by artillery shells and others were run over by heavy vehicles after they were killed. It was the most horrible sight of the war that I have ever seen and it was a great loss for both sides. 'In the 7 days of fighting the 179th Infantry alone lost 55% of its men and officers. Over 500 killed or wounded and over 700 missing and captured'. INSERT LINK TO PAUL BROWN/CEMETARY

In 1984 I went to Nettuno, Italy and visited the American military cemetery there, which covers over 77 acres. During our visit there we came across many of the crosses bearing the names of soldiers from my outfit, the 179th Infantry. The Casualties were tremendous. I had heard that more than half our regiment was lost. The visit to the cemetery brought back some vivid memories of the fighting some 40 years earlier.

We had no idea what was in store for us because the Germans were known not to be trusted with prisoners. Carrying our wounded sergeant, using a blanket for our stretcher, we walked about 3 miles to a large farmhouse that the Germans were using for their First Aid Station. There was also a military tank and half-track, and several piles of ammunition boxes next to it. I do not know what happened to our wounded sergeant after we got to the aid station, whether he was treated or died, I never saw him again.

There were about 80 to 100 of us prisoners taken at this time; I believe they were all Americans. The weather was cold and the ground was soggy and wet when they had us all lined up for a head count and briefing in front of the aid station. While we were all standing in line, there was a German soldier directly behind me sitting on a wooden ammunition box eating a sandwich, but little did he know that it would be his last. As the German officer started talking to us, I saw six American P-51 fighter planes flying to our right and making a sweeping turn toward us. As the P-51s completed the turn they started diving right for us. Someone shouted and we, the prisoners, all hit the wet and soggy ground, but the Germans did nothing to try getting out of the way. They didn't even take cover; they just stood there and watched as if dumbfounded by the event. Three planes fired at us with their guns, I guess the other planes must have realized their error and held their fire. As a rule the aid stations do not get bombed or strafed, but there were military vehicles and equipment near by which made it a target.
When we got up the soldier sitting behind me eating a sandwich was still sitting there with his mouth open and the sandwich in his hand, but he never woke up, he was hit in the chest. Also one other German soldier was hit, but I do not remember if he died. If any of the ammunition boxes were hit and exploded, it would have meant disaster for almost all of us. I thank God that He saw me and the rest of us through this ordeal. I don't remember what reaction the Germans had to the planes strafing them, but I am sure there were some nasty remarks.

That afternoon, we were crammed in a truck, standing room only, and taken to a temporary camp in Foresabina, Italy. We remained there for three days. There we slept on the concrete floor on piles of straw, loaded with lice, with no bedding, only the blanket we carried on our backpacks. Then again we traveled by truck to a camp near Laterina, Italy. We were to remain at this camp for close to three months. It was a large camp with prisoners from the U.S., Canada, Great Britain, India, and other places. The camp was surrounded by a high double chain link fence spaced about eight feet apart with barbed wire on top and guard towers at the corners. There were also guards with German Sheppard dogs patrolling between the fences.
The barracks had concrete walls with concrete floors, and a latrine at the rear. They were more like a large warehouse with only one partition wall to separate the latrine from the rest of the building. There was no privacy whatsoever. The latrine was a large holding cistern the width of the building, underneath the concrete floor, with several holes in the floor, which you straddled with your feet, no partitions or privacy.

Water was rationed, so we could wash only every other day, there was no such thing as a shower or bath. Our beds were nothing but a large bag filled with straw and a blanket on very crudely constructed bunk beds, which were over run with body lice, so it was only natural that we all should have body lice. On warm days we would sit outside in the sun in the daytime and pick lice from ourselves, but every one was in the same condition, so there was nothing to be embarrassed about. We would wear the same clothes that we had for over almost 4 months. At this camp there was one barrack for officers, which had bunk beds with straw mattresses. The officers were always treated a little better than the enlisted men.

As for our food, if you want to call it that, it was barely enough to subsist on, consisted of a cup of coffee in the morning, at least that is what they called it but it was hot, for lunch we got a cup of watery soup which you had to learn to eat. We had to use our own canteen cups for coffee and soup; there was no such thing as dishes and silverware. There were no tables or chairs, we just sat on the floor or the ground or ate standing up. As the days rolled by and hunger was setting in, the soup was welcomed but never enough. For dinner we got a cup of tea along with a small loaf of bread, which was divided among 6 persons, the portions were small and it was the only solid food we received. It was plain German bread with nothing on it.

The hunger was getting so bad, and being that It was almost impossible to cut six pieces of bread to the exact size, so that in order to prevent a fight the person that cut the bread would hold the pieces in his hands behind his back and you told him which one you wanted, right hand or left hand. There have been some pretty nasty fights over food; I guess hunger will do many strange things to a person. When soup was served it came in a large pot, which was set on the ground in the middle of the compound. When it was empty several P.W.s would try to get to the pot first to scrape for just one more drop. Every Thursday we got rice or barley soup, which was like a treat for us because it had a little more body to it. Every once in a while some Italians would come near the camp and try to throw some loaves of bread over the fence before the German guards would run them off. I was never lucky enough to be at the right place at the right time, and no one would share. Medical help or aid of any kind was practically unheard of; one had to be almost dying to get medical assistance. After about a month almost everyone had dysentery. There were some prisoners that died at this camp, but I don't remember how many.

Escape from camp was unthinkable, when someone tried to escape and was not successful, he would be put in solitary confinement for a period of time with only bread and water for several days. The building used for solitary confinement was made out of wood with three small rooms and a very small window near the ceiling. It was set in the middle of the compound so everyone could see when anyone was put in confinement. When someone had successfully escaped from camp he was usually caught and was brought back to camp in a wooden box that was put on display for everyone to see. There were two such incidents like that during my stay at this camp, but as far as I can remember neither one were prisoners from our camp. I don't know where they came from but the Germans would bring the prisoner's body in a box and set it in the middle of the compound for a day just to prove their point. There have been a few that tried to escape but I don't remember of anyone that escaped from our compound while I was there.

One day the Germans proudly brought in an officer celebrity, so to speak, into camp to show him off to the Americans. He was Max Schmelling, an ex-boxer and German champion that fought Joe Louis in the late thirty's or early forty's, but he lost, and it did not go over as big as they thought it would. He was a hero to the Germans but most of the prisoners never heard of him.
Life at the camp was pretty dull, line up every morning and evening for roll call, then just walk around for a little exercise or sit and pick lice from your body, and sit and talk. By the way we were not allowed to have more than three or four persons in a group talking, because the Germans were always suspicious and they did not trust anyone. The only exercise we got was walking around the campgrounds. Sometimes we would have roll call two or three times a day or whenever the guards felt like it. At least once a day and sometimes two or three times a day or whenever they felt like it, they would inspect our barracks to see if they could find anything to the contrary. They were always on the look out for anything that was different and always suspicious of every little move that we made, or if they saw a little group together talking they would break it up with threats. In the three months that I spent there I must have lost at least 40 pounds. I weighed about 90 pounds when we left the camp for Germany.

The Officers barrack was on the end of the compound the second one from where I was and about 25 feet from the first fence. Somehow they broke through the concrete floor, under one of the bunk beds, and proceeded to dig a tunnel, always making sure that the bunk bed was in the exact same position every time the guards came by.

Only a few of the prisoners ever knew of the tunnel being built. Not everyone could be trusted. I don't remember how it was that I found out, but I did know about it. I would see men walking around outside with dirt trickling out from underneath their pant legs. They would fill their pockets or pouches with dirt then let it trickle out on the ground while walking, carefully tamping it down with their feet so it would not be noticeable, at the same time being very careful not to draw suspicion from the guards, Some of the dirt was thrown into the latrine tanks in the rear of the barracks, but were always careful not to over do it so it would not show, The Germans were always suspicious of anything that was going on, so everyone had to be on the alert. They must have started the tunnel sometime before I got there, because to dig a tunnel large enough for a man to crawl through and 40 to 45 feet long and deep enough so as not to cave in was no easy task, and to do it unnoticed was the biggest task of all. They even had to be careful not to dig near the fence while the guard and dog were walking their beat near by. I don't remember how they got light in the tunnel, but there had to be some type of light to see for digging. Not to say the least there was a great risk involved.

All things considered a tunnel was being dug and one night they were ready to make a break for it. Every thing was checked and double-checked and it was decided that the tunnel was clear of the second fence. All that had to be considered was to make sure that the guards were on the other side of the compound and could not see when someone got through the tunnel.

The officers and a few of the enlisted men, myself included, about seventy of us, gathered at the officer's barrack just as the sun was setting ready to make a break to the outside. We had to be very careful not to be seen by the guards because we were not allowed to roam around after dark. Every thing was just perfect, a dark night with cloudy skies with no moon or stars. All that was left to do was to break upward through the ground at the end of the tunnel, when like a thud the bad news came. The tunnel engineers had decided that the tunnel was about two feet short of the second fence and would come up between the two fences, so the whole episode was called off for two more days and we had to sneak back to our own barracks with out being seen. It was a great disappointment. If we could have gotten out we would have had a good chance since the Italians and Germans were not friendly with each other.

The Germans were always suspicious that something might be going on but had no idea that there actually was a tunnel being built until the next morning when an English soldier from Scotland reported it. The Germans took him away to another location immediately for fear that someone may beat him up or even kill him and I think it could have happened. The Germans then broke down the tunnel and filled it in with dirt and, by the way, it was two feet past the second fence, just a miscalculation on the part of the excavators. Several of the officers were put in solitary confinement with bread and water for about three or four weeks.

About three weeks later on May 1 2, 1 944 we were loaded on a truck, standing room only, and taken to a camp In Mantoya, Italy, somewhere around in the Florence area. There we were in a large building that I think had been used for a museum before the war. After four days on May 17 we were loaded-and I mean loaded- into railroad boxcars with little more than standing room. We were so crowded that everyone could not sit down at the same time, so we would take turns sitting on the floor. I can't remember about the sanitary conditions, whether we had any or not, maybe some things are better to be forgotten. After three days traveling, and stopping only once to let us out to stretch and whatever, we finally reached our destination, Stalag VII-A in Mooseburg, Germany.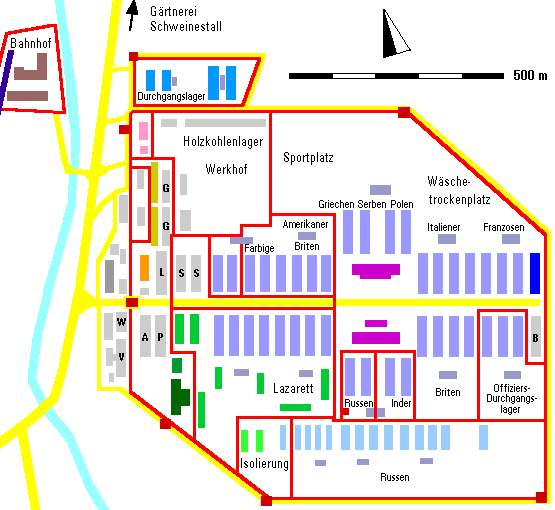 We were taken off the train and into a shower room where we were deloused, (stripped bare then sprayed all over with some kind of dusty chemical), and had a shower and then taken to what looked more like a prison than a camp. We did not know at the time that the Germans used this same type of shower rooms to gas and murder thousands of Jews and other prisoners and civilians in concentration camps.

The buildings had rooms with steel bars on doors and window that looked more like prison cells. There was nothing to do here except sit around all day and the food here was no better than it was in our previous camp. We remained there about 20 days and on June 8 we were taken to Augsburg. There we helped build our own barracks from prefab building materials, and again the food was barely enough to sustain you, but at least we were getting more exercise. By the way, American bombers bombed this same camp some time after we moved out.

While in Augsburg we were taken in small groups downtown or to the airport on work details to clean up the rubble from the damage that was being inflicted by American and British bomber planes. I remember on one occasion while five of us were on a work detail in downtown Augsburg to clean up the debris from the bombings when the air raid siren sounded- there were several American planes overhead- and the guards took us into an underground air raid shelter. It was full of civilians and everyone was staring at us as if to say, why are you here when your bombers are dropping bombs on us, you could almost see daggers in their eyes. None of us understood any German so we had no idea of what anyone was talking about, whether about us or not.

One day for lunch they brought us a large pot of snail soup and as the custom was set it in the middle of the floor in our barrack, which was their normal way Of serving meals. Some of the snails were still alive and clinging to the sides of the pot and it had a terrible odor. As I remember we put the lid back on the pot and not one person even sampled it, needless to say we went hungry that day which was not unusual.

In Augsburg was the first time that I was interrogated but never intensely, it was all mostly personal information, like what work I did in civilian life and where I was born, etc. I guess after five months there was not much military information we could give. We were told to fill out cards, which would be used by the Red Cross to notify our families.At Home in the United States I was reported as missing in action by the State Department, and my family had no idea whether I was alive or dead for almost six months. In August the news came over the radio in the U.S.A. with a list of names of prisoners of war from Germany, including my name. My parents received several telegrams and cards from concerned people throughout the country that were listening to the radio and heard my name mentioned. It was a big relief for them to know that I was still alive and I believe they prayed all the more for my safe return home, for which I am thankful to God. There were times when I thought that I would never see home again.

When I was asked what I did in civilian life I told them that I worked on a farm, when asked if I could milk cows, plow and do other farm chores my reply was yes, even though I had never done of that type of farm work before. There were rumours going around that they were looking for farm workers and I thought it would be better than the camps, at least the food could not be any worse and should be better. On August 8 we went by truck to Stalag VII-B in Memmingen, which was to be our base camp. The next day we were on our way again by train, (this time we traveled like human beings in a passenger train with seats). We were being transferred to a farm detail in Unterthurheim, a farming community of about 400 to 500 people south west of Augsburg.