State's 'unsung heroes' of WWII

Veteran tells of little-known Guard unit
NOTE THAT LINKS WHICH LEAD TO THIS SITE ARE BEYOND OUR CONTROL,
AND WE DO NOT ENDORSE THE WEB CONTENT OR ACTIONS OF SUCH OTHER SITES OR THEIR OPERATORS.



By Jim Sheeler
Special to the Denver Post

Sunday, August 26, 2001 -

THE 157th INFANTRY
(in World War II)
Click here to see map and details of the 157th and its war action
Number of days in combat: 511
Number of soldiers in the regiment: 12,000 (approximate)
Number killed in action: 1,065
Number wounded in action: 4,330
Missing in action: 143 (22 declared dead)
Prisoners of war: 758
Congressional Medal of Honor recipients: 3 (Almond E. Fisher, James D. Slaton, Van T. Barfoot)
---
A SIGN OF THANKS
On Jan. 4, 1957, Colorado Gov. John Vivian signed a proclamation naming U.S. 40 through Colorado "The 157th Infantry Highway." Nobody ever bothered to put up a sign, and the designation was largely forgotten. The 157th is now attempting to raise money to build signs along U.S. 40 as a way to remember the regiment's sacrifice. To contribute, send checks to The 157th Infantry Association, c/o Colorado Adjutant General, 6848 S. Revere Parkway, Englewood, CO 80112-6709.
This was the worst.
This was living with death every hour of the day and night, and as close to hell as any man would want to come.
This was Anzio, and this was the worst.
- from "History of the 157th Infantry"
When the Germans attacked, they came in screaming. Hollering. Like they were drunk.
On the front line, the men of E Company silenced the shouts with gunfire. Then they heard another rumble. From his muddy foxhole, a soldier from southeastern Colorado looked up.
"Tanks," thought Clarence Reissig. "They look like rolling castles."
Many of the soldiers of E Company had known each other since they were kids, working on the farms in eastern Colorado near Lamar. A few hundred yards back from the front were the men of F Company, mustered mainly from Boulder, along with Longmont's G Company. Nearby were groups spanning the state, from Fruita to Burlington, Brush to Craig. Known as the Colorado National Guard Regiment, they fought as the 157th Infantry. On their uniforms they wore the same motto: "Eager for Duty."
As the artillery shells fell, the men of the 157th felt the ground shake inside the foxholes. Some were catapulted out of the holes by the blasts. The shock was strong enough to cause instant nosebleeds. The earth was torn apart. The men were torn apart. Supply lines were cut, and thirsty soldiers drank water from red streams, boiling away the blood.
When E Company began the battle at the Anzio beachhead in Italy, it was nearly 200 men strong. After more than a week of brutal fighting, only two men would walk away. One of them would later die in battle. The other would make it all the way through Germany and the liberation of the Dachau concentration camp, opening the gates to new nightmares.
"These guys were really the unsung heroes of World War II from Colorado," says Flint Whitlock, author of "The Rock of Anzio," a 1998 book that has a history of the regiment. "Not many people outside their families know what they did."
As the men of the 157th gather this week in Denver, the old veterans will serve as a living reminder of those stories born in Colorado and played out during 511 days of combat, as close to hell as any man would want to come.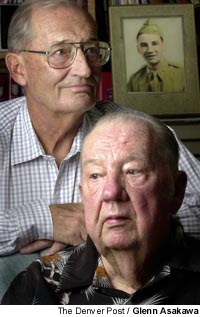 Felix Sparks, right, who served with the 157th Infantry in World War II, and historian Jack Hallowell, also a veteran of the 157th, reflect on their war experiences. The photo behind them shows Capt. Sparks in 1942.
"What a miscalculation'
From a couch at his home in Lakewood, an 84-year-old man in a Hawaiian shirt takes himself back to the place where a 26-year-old captain lost his entire company.
"Anzio," Felix Sparks says. "What an abortion. What a miscalculation."
Following its initial landing in North Africa, the 157th lost men at Sicily and Salerno. After storming the beachhead at Anzio, Sparks' company held its ground near a crucial roadway. They were pushed into nearby caves, and at the end of it, Sparks stumbled out of the fighting almost unrecognizable - muddy, dehydrated and already growing a thick black beard. The men found him a foxhole and put him to sleep.
"Life is mostly luck. It isn't planned," Sparks says. "You take what you can, and you take advantage of it."
During an interview in his home that lasts more than six hours, Sparks never moves from the couch. Despite a slew of health problems over the past few years, he never tires of the stories. His bulldog jowls shake when he gets mad; he swears like he's still in the trenches as he recounts military blunders from headquarters that got his men killed. When he talks of the camaraderie, a growling chuckle shakes his body with the same intensity.
A Texas native raised in Arizona, he joined the Army because he thought it was his last hope after the copper mines closed. Likewise, many of the men from small Colorado towns had joined the National Guard during the Great Depression, thankful for a couple more dollars a week. During World War II, those burly Colorado farm boys from the National Guard would form the backbone of the 157th.
When they set sail from Virginia on June 8, 1943, Sparks estimates that of the 3,200 men in the regiment's initial invasion force, about 2,000 came from Colorado. Of that number, he figures that about 90 percent were injured, killed or taken prisoner by the end of the war. Sparks was one of the few to make it all the way, in the process performing daring battlefield rescues that would earn him Silver Stars for bravery and two Purple Hearts.
At the end of the initial fighting in Anzio, when Sparks awoke from the foxhole, the battalion was awarded a presidential citation for its role in saving the beachhead. He was then given 10 days to train 700 raw recruits from all over the United States.
At the time, D-Day was still months away. In upcoming battles in France and Germany during the following year, the regiment would leave hundreds of men in cemeteries that their parents, wives and children would never see. But just as the men from the 157th would figure the worst was over, that the war was won, they would receive their last major assignment:
"Tomorrow the notorious concentration camp at Dachau will be in our zone of action. When captured, nothing is to be disturbed. International commissions will move in to investigate when the fighting ceases."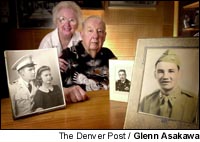 Retired Brig. Gen. Felix Sparks and his wife of 60 years, Mary, pose with photos taken during his military career. From left, a 1941 wedding portrait, Felix in uniform in 1961 and in 1942.
Boxcars full of bodies
It started with the boxcars, and one dead man among thousands.
"The thing that we saw first was 39 railway cars all full of dead bodies," Sparks remembers. "We didn't know what the hell they were doing there."
In an attempt to hide prisoners as the nearby Buchenwald camp was captured, the prisoners were crammed into the railcars headed for Dachau. Most of them suffocated along the way.
"One of 'em had had enough strength to crawl out of one of those boxcars," Sparks says. "A German soldier had crushed his skull with a rifle butt. His brains were all over. That got a lot of the men mad. Some of them were crying. Some of them were cussing. But most men didn't say anything. They couldn't believe what they were seeing.
"That was our initiation. We still had more to come once we got inside."
Once inside the gates, the men saw what they called a new level of hell. Then it all broke loose.
"That was one of the worst days of my life," Sparks said. "It's like being in a bad dream. All those dead bodies. Maggots. The smell. To see those naked bodies stacked up like cordwood. It's hard to believe you're actually there."
For some of the men, emotions boiled to fury. While Sparks was at another part of the camp, dozens of the SS soldiers were lined up and shot. When he heard the gunfire, Sparks ran back, firing his pistol in the air to stop the executions.
Though many argued that the SS officers deserved a fate worse than the firing squad, Sparks was later called into Gen. George Patton's office to answer for the actions of his men. He recounted the scene in a newsletter for the 157th Association, beginning with his request to Patton to give his side of the story.
"The general paused for a moment and then said, "There is no point in an explanation, I have already had these charges investigated and they're a bunch of crap. I'm going to tear up these g------ papers on you and your men,'" Sparks recounted. "With a flourish, he tore up the papers lying in front of him and threw them in the wastebasket.
"He then said, "You have been a damn fine soldier. Now go home.'"
Brig. Gen. Felix Sparks is shown at his retirement from the Army in 1979.
Moved to Colorado
Sparks had never seen Colorado, but he knew what it looked like. He'd heard his soldiers talking about home.
After the war, he moved his family to the state where so many of his men never returned, and graduated from CU's law school. He worked as an attorney and ultimately was named a Colorado Supreme Court justice. He returned to the National Guard, serving during the Cuban Missile Crisis of October 1962, and retired a brigadier general. In 1993, gunfire once again brought him out of retirement: His grandson was killed in a drive-by shooting, and Sparks formed a group credited with making it illegal for minors to own handguns.
On Thursday, the Colorado Army National Guard will dedicate its Centennial Armory to Sparks. The men of the 157th will be there, as part of their annual reunion that Sparks started in 1975. Those men - 1,100 at last count - are the last of the 157th Infantry.
"Numbers don't mean a hell of a lot to anybody anymore. And there's only a handful of men left here in the state who served with the 157th," Sparks says. "Not that many people know (about the regiment). But the people in the small towns know. There are a lot of widows. A lot of people killed."
For Sparks, those widows' faces reflect in the same pool of memories as his men. In 1945, when he first saw Colorado, he traveled to the small towns he had heard about in the foxholes and met the widows.
"There was one widow in Fort Morgan. I went to see her after her husband was killed. He was a good man. He married a girl he knew in high school. Rose. Rose was her name," Sparks remembers. "They had two kids in rapid succession, and then he was killed. I was sitting in the living room, and the two little kids were there. She said, "This man knows Daddy.' Two little tiny kids. They didn't know what the hell she was talking about."
For the first time in several hours, the old general closes his eyes, catching the words in his throat.
"That really got to me," he says finally.
""This man knows Daddy.'"
Vere Williams
Got a 'funny feeling' when danger was near
Vere "Tarzan" Williams displays his medals outside his home near Grand Junction. He was wounded six times.
As the amphibious boat pulled onto the beach on the southern coast of France, Vere Williams had one of his funny feelings. Funny in a bad way.
By then Williams had already been wounded four times. Before he felt hot metal sear his flesh, he would get one of those strange feelings.
"You have the feeling that something's going to happen," he said. "Even when I was growing up on the farm, I had the same feeling."
Back in Snyder in northeastern Colorado, he said, the feeling led him to jump off tractors just before a bolt was coming loose. On the beach in France, he convinced his injured comrades to drag themselves away from the area, just before another explosion obliterated the place where they had been. After another stay in the hospital, he was back on the front line.
"I don't know," he says. "I figure I must have three or four guardian angels looking out for me."
On Halloween 1944, 10 miles from the German border, he had the feeling again. That afternoon, a bullet shattered his arm. He would spend the rest of the war in a hospital.
These days, he lives in a small trailer home in Whitewater, south of Grand Junction, where he keeps his stories for anyone who asks. He keeps them near his Purple Hearts.
"When they brought me onto the ward with the last wound, they brought me next to the nurse's station," he remembered. "One of the nurses would come in and talk to me whenever she got a chance. She said, "You know, whenever I ask the boys what it's like on the front lines, all they say is, "It's hell up there." Well, I know it's hell up there, I can see what you boys come here looking like.' But what's it like?'"
Over the next several hours, the next several days, Williams told her about the fighting, the freezing, and the bodies. He told her how his platoon that started with 14 men had seen 65 replacement soldiers since the beginning of the war. He told her about the feeling right before you get shot.
"I told her what happened," Williams said. "She said, "I can see, now, why they call it hell.'"
Otis Vanderpool
Youth from Olathe lost older brother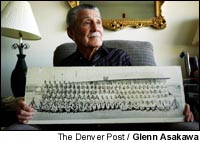 Otis Vanderpool holds a photo of the 157th Infantry at his home in Grand Junction.
When Otis and Ervin Vanderpool left the cornfields of Olathe for the army, they had never traveled beyond western Colorado. At 21 years old, Otis was still working on the family farm. Ervin, his older brother by 10 years, figured he had better join alongside his little brother.
Everyone in K Company remembered the Vanderpools. Ervin was known for buying candy bars at the PX and then reselling them on the battlefield for 5 cents more than he paid. He was also known for sticking next to his little brother. Otis was quick and smart for his age and was a sergeant during the bulk of the fighting.
Otis Vanderpool, shown next to the 157th Infantry flag in 1941, was known as being quick and smart for his age, 21, and was a sergeant during the bulk of the fighting.
During a battle in the Vosges Mountains of France, near the German border, battalion commander Felix Sparks heard that K Company was in trouble and ran over to see what he could do. He rushed up a hill, only to see Otis on a stretcher, his leg blown off at the knee. When he made it to the front, he never told Ervin about his brother's injury. He didn't have time. The older brother was shot in the stomach and died on the battlefield.
"I kick myself for not promoting (Ervin) when I should have," Sparks said. "If I would have promoted him, he wouldn't have been in that battle."
When Otis hears the story these days, he says Sparks shouldn't trouble himself. Other officers had also talked of promoting Ervin, sending him to battalion headquarters, but he refused to listen.
"He wouldn't accept a promotion," Otis said of his brother.
"He wanted to stay near me."
Jack Hallowell
Fate intervened with a typewriter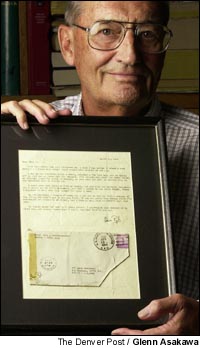 Jack Hallowell holds a framed letter he received from noted war journalist Ernie Pyle in 1944.
Carrying the metallic mouth of a 60mm mortar cannon, Jack Hallowell made it through the front lines at Sicily and Salerno, and was headed for the beachhead at Anzio. That's when a Royal portable typewriter saved his life.
"The (commanding officer) said, "Well, we've got a long war, we should probably have someone writing a history,'" Hallowell says from his apartment in Lakewood. "They found out I had a journalism degree from the University of Montana. I wasn't a historian, but writing that history sounded a lot better than carrying that mortar."
As Hallowell pored through journals at regimental headquarters, his company was wiped out at Anzio - only two men walked away.
"My fate would have been different if I hadn't been sitting back there at HQ with a Royal," he says. "I do have some conscience about not being with them."
But if it weren't for Hallowell and several other men, much of the history would have been lost. Hallowell followed the 157th from its training in the United States all the way through to Munich. Along the way, he found plenty of stories, along with a few mementos.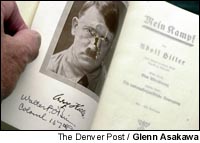 Jack Hallowell, historian for the 157th, found this copy of "Mein Kampf' at the Dachau concentration camp. His regiment commander signed the copy and punched out Hitler's nose.
"How about this?" he says, pulling out a copy of "Mein Kampf" he took from the Dachau concentration camp. Soldiers from the regiment signed the book; one of them punched the photo of Hitler in the nose, ripping the paper.
Since the war, he's put his German artifacts to peaceful uses: He uses an enemy soldier's spoon to eat his breakfast cereal; he uses a Nazi knife to dig up dandelions in his yard.
And on his table is the work that rests on the shelves of the men he knew better than any historian, the work that Hallowell clack-clacked out with his heart and hands: "The History of the 157th Infantry."
Many Thanks to Author Jim Sheeler for his permission to use this article (Originally printed in the Denver Post on August 26, 2001) on our web page.   If you enjoyed the article, please let him know.
last revision